(Taken From CNN)
https://www.cnn.com/2023/01/04/weather/severe-storm-tornado-threat-south-wednesday/index.html
California Gov. Gavin Newsom issued a statewide emergency declaration Wednesday, clearing the way to quickly disseminate aid for those affected by the winter storms wreaking havoc on the drought-plagued state, said Nancy Ward, state director of emergency services, during a news conference.
California's latest dangerous storm is the result of a strong "atmospheric river" – a long, narrow region in the atmosphere that can carry moisture thousands of miles. Northern California and the Bay Area will see the worst impacts through the day Wednesday and Thursday as heavy rain and hurricane-force wind gusts move onshore.
The storm became a bomb cyclone Wednesday, after it rapidly strengthened while still offshore. A bomb cyclone is an area of low pressure that intensifies by 24 millibars within 24 hours. Millibars are a unit used to measure atmospheric pressure.
Along with very heavy rainfall, winds gusting as high as 60 to 80 mph will be possible.
"If these winds do materialize, the threat for scattered to widespread power outages and property damage will greatly increase," the weather service office in San Francisco warned.
"A plethora of hazards are forecast, with heavy rain and strong winds expected to be the most widespread impact. Widespread rainfall amounts of 3 to 6 inches are anticipated, with locally higher amounts throughout the coastal ranges and over northern California," the weather service said.
While those expected rainfall amounts wouldn't normally have major impacts, the state recently saw heavy rain that left soil saturated and susceptible to flooding and landslides, the weather service said.
Northern California in particular was inundated with heavy snowfall and deadly flooding over the weekend, prompting evacuation orders and water rescues. That raised questions over how much the precipitation would put a dent in California's ongoing drought conditions.
The first snow survey of the season in the Sierra Nevada Mountains released Tuesday shows the current snowpack is well ahead of average for this time of year, according to a release from the California Department of Water Resources.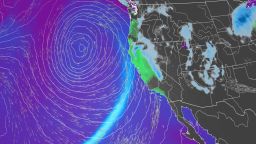 California braces for more 'brutal' flooding and mudslides as experts warn it won't quench historic drought
The Sierra snowpack makes up about 30% of California's water needs on average, according to the department.
The snow depth measured Tuesday at Phillips Station, just south of Lake Tahoe, was 55.5 inches. Statewide, the snowpack is at 174% of average for this date, the agency said.
However, experts caution that despite the deluge – and expected precipitation over the coming week – the drought isn't over yet.
"The significant Sierra snowpack is good news but unfortunately these same storms are bringing flooding to parts of California," Department of Water Resources Director Karla Nemeth said in a news release.
"This is a prime example of the threat of extreme flooding during a prolonged drought as California experiences more swings between wet and dry periods brought on by our changing climate."
Because of the yearslong drought, the ground can only absorb so much water and in many areas has already reached its saturation point from storms in late December and over New Year's weekend. As a result, the influx of water is running off, leading to major flooding in places.
"This is an extreme weather event and we're moving from extreme drought to extreme floods. What that means is a lot of our trees are stressed after three years of intensive drought," Nemeth said. "The ground is saturated, and there is a significant chance of downed trees that will create significant problems – potentially flooding problems, potentially power problems."
The concerns are especially high in areas recently charred by wildfire, where residents are being warned to prepare for possible evacuations.
"We're also monitoring very closely burn scar areas," said Nemeth. "If you are in an area that has burned recently, again, we urge you to stay connected with county (Office of Emergency Services). These kinds of events can trigger mudslides and significant debris flow. So be ready to evacuate as needed."
And the stormy weather isn't going to let up anytime soon. More rain is expected through the weekend, though the specific impacts aren't clear yet.
"The message to convey is resiliency as this is not a 'one and done' storm," the weather service in San Francisco said.